Professional services
I am a native Swede, and started doing research for other people in 1978, and my clients have mostly been Swedish Americans looking for their roots in Sweden.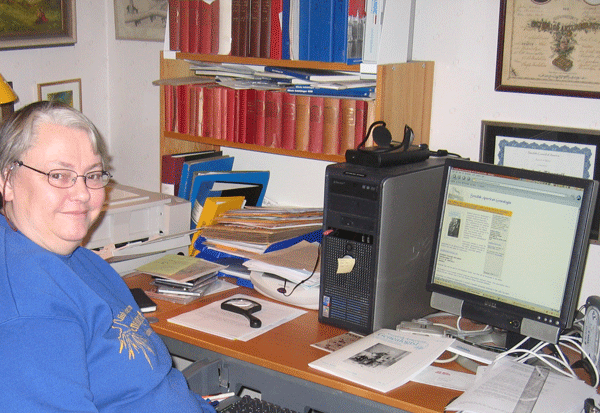 I have concentrated on the research area of Östergötland, Småland and Öland, for which area the original records are kept in the Provincial Archive at Vadstena. I do not live near the archive, but travel there regularly, and am well known by the staff.
Some of the people I have been working on can be found on my list of emigrants.
I usually find out where the emigrant came from (if I am given sufficient data) and then I trace his ancestors backwards in time. My client then receives a detailed report in English, with source citations. I can also look for living relatives, but that is often more difficult and time-consuming, as people have moved much more during the 1900s.
If a research project is not based in my main research area, I work together with some other experienced researchers, that I may refer you to. Or check the list directly and contact the likely one.
I am the former editor of Släkthistoriskt Forum, the most read genealogical journal in Sweden, published by The Swedish Federation of Genealogical Societies, and also a former editor of the Svenska Släktkalendern (The Swedish Family Register), both jobs that I have quit to go back to what I really enjoy - research.
I am now the Editor of the Swedish American Genealogist, published by the Swenson Swedish Immigration Research Center in Rock Island, Illinois. To be the editor of SAG is definitely not research, but I see it as an opportunity to help our cousins in America to find out more about their Swedish roots.
I am a member of some American societies: The Swedish American Historical Society and The Swedish Ancestry Research Association [SARA] (Worcester).
I am of course also a member of a number of Swedish genealogical societies and a Corresponding Honorary Member of the Genealogical Society of Finland. In 2006 I was awarded The Award of Merit by the Swedish Council of America, which I feel was a great honor.
Maybe you have something you would like me to research for you?
Send me an e-mail with details of your problem, and I will answer you with a research out-line and my fee schedule.
Pay me securely with any major credit card through PayPal!
---
Are you coming to Sweden?
Having lived in Stockholm for many years, I know the city well and can be your guide for a day. I can take you to the Royal Palace, to the Cathedral, to the Wasa, and to my favorite place: out-doors museum Skansen, and many other places, and I will share my knowledge of Swedish history and/or customs that has to do with the specific place.
Or maybe you would like to go to the microfiche research center at Arninge, where you have access to microfiche of all Swedish church records and much more? Or the Stockholm City Archives?

Send me an e-mail and tell me what you want to see in the area, and I will tell you the cost.


Do you want to contact me? You can do that here

Snail-mail: Elisabeth Thorsell, Hästskovägen 45, S-177 39 Järfälla, Sweden.

Back to the first page!

Uppdated February 2018
© Elisabeth Thorsell